Client:Skyline Roofing
| | |
| --- | --- |
| Site: | Milford Havon Pembrokeshire |
| Contractor: | Reactive Integrated Services |
| Type of works: | Asbestos removal |
| Programme: | 4 Weeks |
| Value: | £95,000 |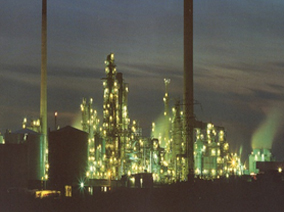 Description of Works:
We have worked on many projects at Murco Oil Refinery in Milford Havon Pembrokeshire. Our last contract was the removal of asbestos façade panels and roofing sheets from the Petroleum Testing Building. We replaced all asbestos panels and roofing sheets with New Blast Proof Panels and roofing sheets.
This was a very sensitive, health and safety conscious contract and a high profile job which was a huge success.